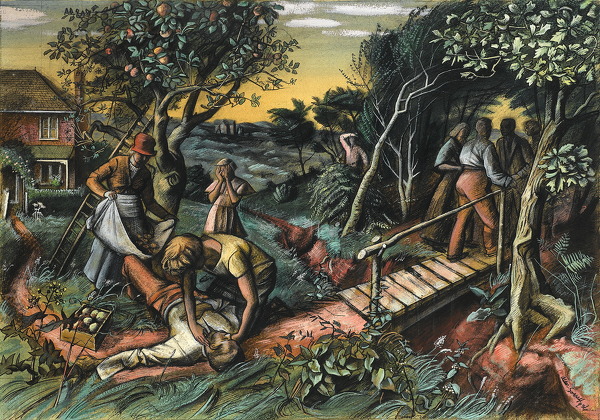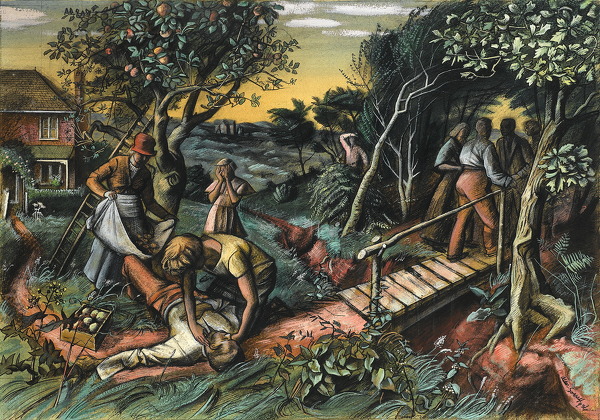 Hover over the painting to magnify (there may be an initial delay while the magnified image is loaded)
Alan Sorrell (1904-1974):
The Long Journey, 1936
Framed (ref: 3775)
Signed and dated,

pencil, ink and gouache on paper, 37 x 52.3 cm (14 1/2 x 20 1/2 in.)
See all works by Alan Sorrell gouache ink pencil allegory farms/domestic animals 1.Master Designs 1.Master Drawings Garden Museum Golden Generation RCA RCAGardenMusuem Seventy-seven pictures by Alan Sorrell
Provenance: The Artists Family
The Long Jouney - the title of one of Sorrell most evocative compositions – exemplifies the Neo Romantic movement which flowered during the interwar period. The narrative both engages and unsettles the viewer - the composition suggests that more of the story is unfolding beyond the confines of the space into which the viewer peers but cannot see beyond.
Richard Sorrell, the artit's son has described The Long Journey as follows:
This carefully planned, double-focussed composition shows a domestic tragedy. The path leads across the bridged ditch in a sweep that suggests the journey from birth to the afterlife. The powerfully drawn trees and plants are, like those in The Artist in the Campagna, drawn from Nature.
The 'longest journey', to which the title refers, is from a quotation from Shelley, and it is the journey through life in a loveless marriage, and this is at least in part the subject of the book (

Forster

always weaves a wonderful web of cross-references). Whether or not it my father referred to this is difficult to say. He was in an unsatisfactory marriage, and the picture does have to do with death - which is an important part of

Forster

's book, but in the book nobody dies from falling out of an apple tree. It is possible. 'The Longest Journey' was published in 1907 by Edward Arnold (by whom Alan was offered a job as art editor).

Exhibited: Sanctuary, Artist-Gardeners, 1919-39, Garden Museum, London, 25th February – 5 April, 2020
Literature: Christopher Woodward, Sanctuary: Artist-Gardeners, 1919–1939, published by Liss Llewellyn, 2020