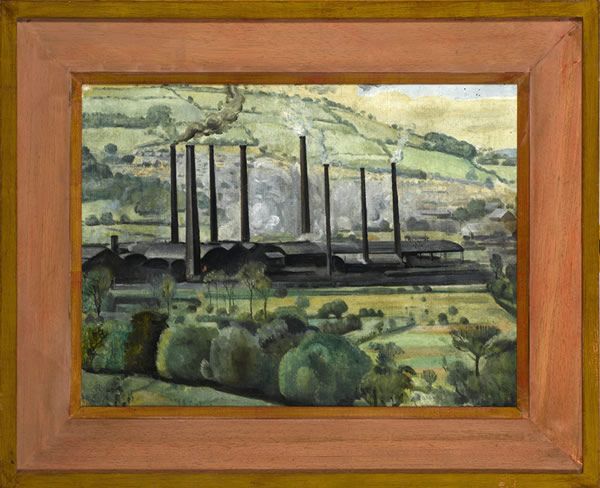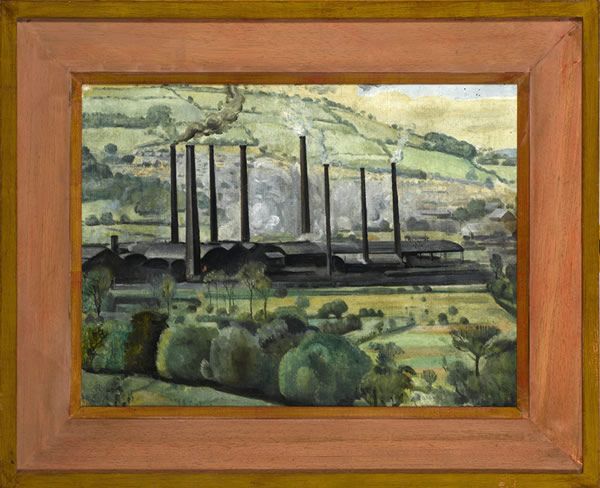 Stanley Lewis (1905 - 2009):
Alcan Steel Works, circa 1936
Framed (ref: 1375)

Inscribed on the reverse Stanley Cornwell Lewis ARCA Principal Carmarthen School Orchard House Lwanstephan Carms.
Oil on 'The Pelham' canvas board,12x16 in. (30.5 x 40.5 cm.)
See all works by Stanley Lewis oil panel Highlights of 20/21 Art Fair work Lewis
Provenance: the artist's own collection.

Exhibited: Exhibition of Paintings, Monmouth County Council, (Welsh Arts Council), November 1952, as Baldwins Steelworks, Panteg, Monmouthsire (no. 59); The Unknown Artist: Stanley Lewis and his contemporaries, Cecil Higgins Art Gallery & Bedford Museum, 12th June - 5th September 2010..cat.no.41
This painting depicts Alcan Steel Works based in Rogerstone, Newport, Monmouthshire, near Stanley's home. During the war it produced 90% of the aluminum needed for the construction of Aluminum clad aircraft such as Spitfires.

Stanley Lewis painted the steel works from a nearby hill, where, watching the smoke drifting with the wind, he was 'mesmerizedmesmerised and compelled to paint it'. The steelworks were demolished in 2009.