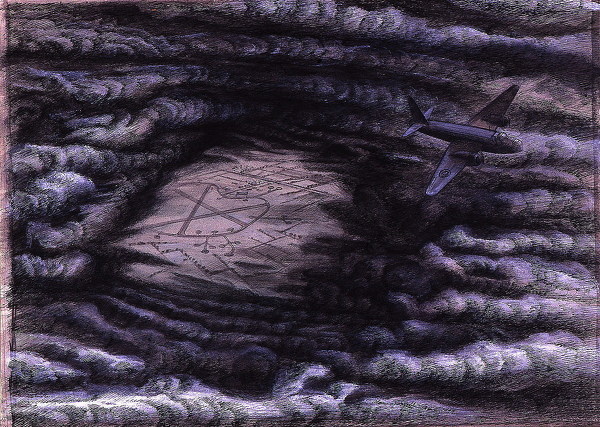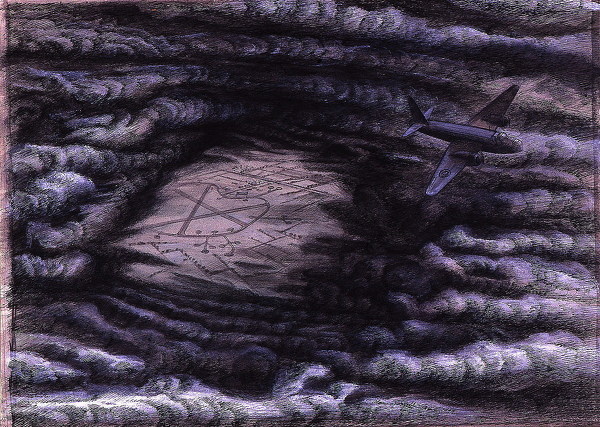 Hover over the painting to magnify (there may be an initial delay while the magnified image is loaded)
Alan Sorrell (1904-1974):
A Cavern in the Clouds, 1944
Framed (ref: 936)

Signed and dated, titled on the reverse
Gouache and pen and ink
11 5/8 x 15 3/4 in. (29.4 x 39.8 cm)
See all works by Alan Sorrell gouache ink pen and ink topography transport war WW2 bis
Provenance: Richard Sorrell
Exhibited : WW2 - War Pictures by British Artists, Morley College London, 28 October -23 November 2016, cat 156.
Literature: WW2 - War Pictures by British Artists, Edited by Sacha Llewellyn & Paul Liss, July 2016, cat 156, page 196.

The aircraft is a stylised version of a Vickers Wellington, a British win-engine,
medium bomber designed in the mid-1930s at Brooklands in Weybridge, Surrey, byVickers-Armstrong's Chief Designer , R.K. Pierson. It was widely used as a night-time bomber in the early years of the SecondWorldWar , before being displaced as a bomber by the larger four-engined 'heavies', such as the Avro Lancaster .TheWellington continued to serve throughout the war in other duties, particularly as an anti-submarine aircraft. It was the only British bomber to be produced for the entire duration of the war. The Wellington was popularly known as the 'Wimpy' by service personnel, after J.Wellington Wimpy from the Popeye cartoons, and aWellington 'B for Bertie' had a starring role in the 1942 propaganda film One of Our Aircraft Is Missing.

It is not possible to identify the airfield, as they were all built to a standard
pattern. A similar , oblique aerial view of an airfield by Sorrell is in the collection of RAF Museum, Hendon (object no. FA03147).