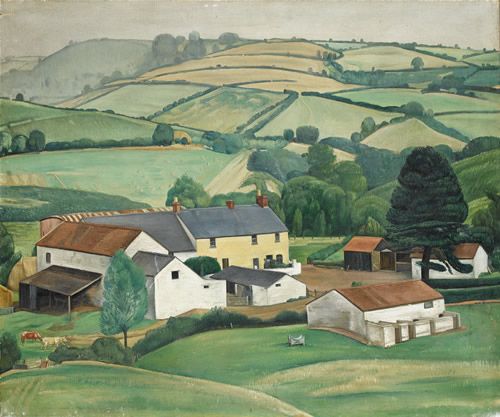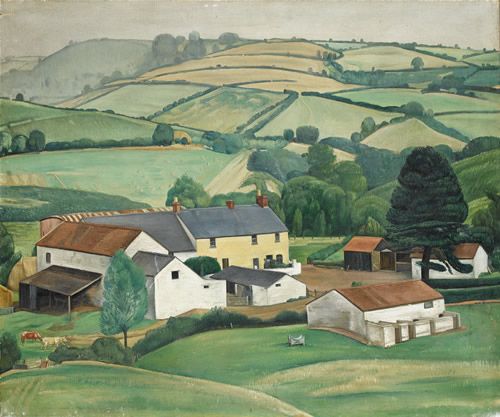 Stanley Lewis (1905 - 2009):
Granary Farm, Croesyceiliog, Monmouthshire, 1938
Unframed (ref: 890)

Oil on canvas, 20 x 24 in. (51 x 61cm.)
See all works by Stanley Lewis oil Lewis
Provenance: from the artist's own collection.
Exhibited: Exhibition of Paintings, Monmouth County Council, (Welsh Arts Council), November 1952, (no. 60); An exhibition of Contemporary Welsh Painting and Sculpture, The Arts Council of Great Britain, 1955 (75).  The Unknown Artist: Stanley Lewis and his contemporaries, Cecil Higgins Art Gallery & Bedford Museum, 12th June - 5th September 2010., cat no.43

The Granary Farm was adjacent to Whitehall Farm, where Stanley grew up, six miles from the city of Newport in Monmouthshire.  The Granary, which belonged to Mr Gray,  can be seen in the back ground of Stanley's Rome Scholarship entry Allegory.

"After leaving the Royal College, I began teaching at Newport Art School.  I would love to go out into the Countryside to blow the cobwebs out, and I always took my box of paints.  This particular day, the sunlight was glorious, and the sight of Mr Grey's farm enthralled me.  Mr. Gray's farm was adjacent to ours.  It was a beautifully built farm and the foreground with the pigsty, barns, yard, cowsheds, and the house in the middle, utterly magnificent, and separated by the pattern of fields.  I could not resist beginning a painting."