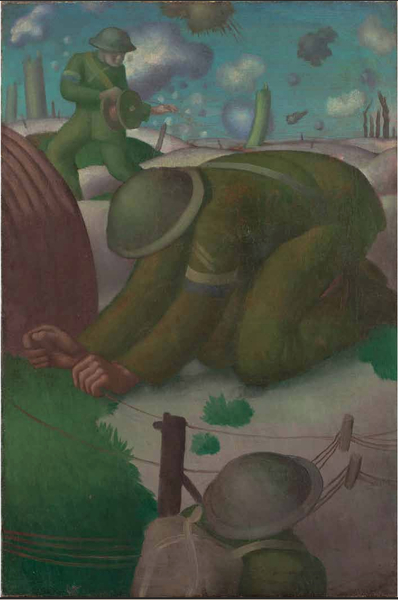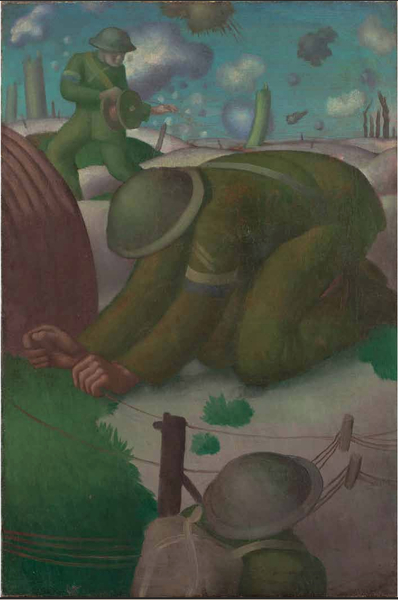 Hover over the painting to magnify (there may be an initial delay while the magnified image is loaded)
Colin Gill (1892-1940):
Soldiers Laying Telephone Wire (Dusk), 1918
Framed (ref: 6081)

Oil on canvas
76.2 x 50.8 cm
See all works by Colin Gill oil men war Colin Gill No Mans Land WW-1 Paintings
Exhibited: 'For Real: British Realists from the 20s and 30s', Museum MORE, Gorssel (September 15th, 2019 – January 5th, 2020).
Provenance: until 1972 this painting was attributed to Paul Nash on the basis of an old inscription on the canvas; 1972 sold at Christies (as unattributed); private collection until 2004; private collection from 2014
In December 1914, four months after Britain had declared war on Germany, Gill suspended his scholarship to volunteer for the Royal Garrison Artillery and by October 1915, he had been sent to the Front in France as a Second Lieutenant of the 17th Heavy Battery. In 1916 he was seconded to the Royal Engineers to work as a camouflage officer before being invalided out with severe gas poisoning in April 1918. After spending several months convalescing at the Hospital for Officers on the Isle of Wight, Gill requested that he might be appointed an Official War Artist :
My name is Lieutenant Colin Gill of the Royal Engineers - my age 26; before the war I was a painter and studied at the Slade School of Art, London University. In 1913, I was awarded the Rome Scholarship in painting . I joined the army in 1914, went to France in 1915 and have been in the line ever since. I have had nearly three years first-hand experience of this line and feel capable of recording my impressions in pictures which would be of assistance to the work of the Ministry of Information.' (Letter to the Ministry of Information, 22 May 1918)
By 25th June Gill had been given a six-month appointment as an Official War Artist, and had received a letter from the ministry reminding him that every work executed 'becomes the property of the Nation.' For this reason war paintings by Gill, outside the sixteen in the collection of the Imperial War Museum, are scarce.
This painting can be seen as a pair to the one of identical size and similar subject in the Imperial War Museum Observation of Fire: Gunner Officers Correcting Their Battery Fire by Field Telephone from a Disused Trench in No-Man's-Land.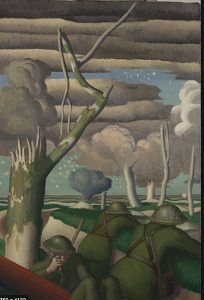 Gill resumed his Scholarship at The British School at Rome in 1919. A photograph of Gill in his Rome studio, circa 1920, shows a first world war helmet as a studio prop. It is known that Gill completed his epic Canadian Observation Post (Canadian War Museum) in Rome and it is possible that this canvas was also completed at this time.
Field telephones were first used in the First World War to direct troops. They replaced flag signals and the telegraph as an efficient means of communication but they depended upon the laying of land lines. The laying of lines - often across no-man's land - was an extremely precarious activity, conducted where possible under the cover of dusk or dawn, (hence the sombre palette of this composition). Repairing lines damaged by enemy fire was a continuous activity - in Gill's painting shells can be seen exploding overhead - but typically would be undertaken at dusk or dawn to avoid detection.
The first field telephones had a wind-up generator, used to power the telephone's ringer & batteries to send the call.. These early telephone systems were not mobile, so radio (a development from the telegraph, and then known as the 'wireless' because it was not dependent on external electrical wiring) also played a crucial role in communications - although radio sets were not very portable either.
Censorship made it difficult for artist's during WW1 to depict dead soldiers directly. More often oblique references to death were commonly portrayed through motifs such as soldiers helmets abandoned in the mud and blasted trees.
Gill painted Soldiers Painting Telephone Wires over a former (landscape format) composition of a Soldier with a Howizter. This fact was revealed when the Courtauld Institute were examining the painting by Xray in 1992.