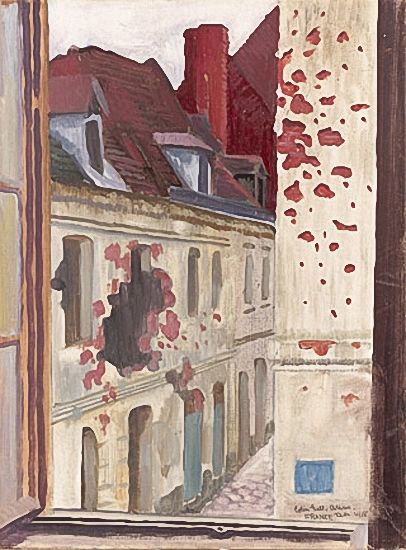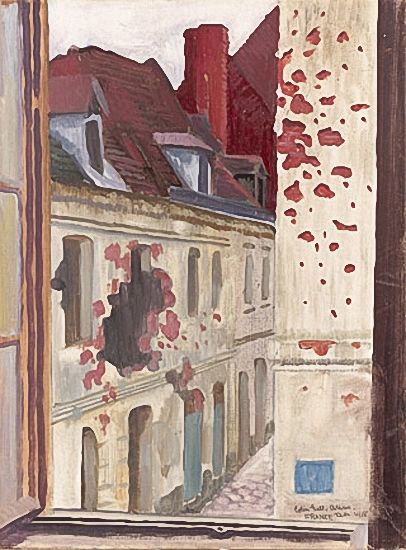 Colin Gill (1892-1940):
View from the artist's billet, Arras, 1918
Framed (ref: 59)
Oil on canvas board, 16 x 11 3/4 in. (40.6 x 29.8 cm.)

See all works by Colin Gill oil panel Colin Gill No Mans Land
Signed and inscribed, Colin Gill, Arras / FRANCE del. 1918 and inscribed on the reverse: 'This oil-colour painting was made by Colin U. Gill and presented to me by him. It represents the view from his billet in Arras and was painted by him during his visit to the Battlefields in 1918. A. N. Lee'
Provenance: given by the artist to A. N. Lee; thence by descent.

'My name is Lieutenant Colin Gill of the Royal Engineers - my age 26; before the war I was a painter and studied at the Slade School of Art, London University. In 1913, I was awarded the Rome Scholarship in painting .. I joined the army in 1914, went to France in 1915 and have been in the line ever since.. I have had nearly three years first-hand experience of this line and feel capable of recording my impressions in pictures which would be of assistance to the work of the Ministry of Information.' (Letter to the Ministry of Information, 22 May 1918)

By 25th June Gill had been given a six-month appointment as an Official War Artist, and had received a letter from the ministry reminding him that every work executed 'becomes the property of the Nation.' For this reason war paintings by Gill, outside the sixteen in the collection of the Imperial War Museum, are scarce.

Gill arrived in France on 8th October and returned to England on 14th December 1918. During this period he wrote regularly to Mr Yockney of the Ministry of Information to report his progress:

'9.10.18. Arras. Arrived here safely yesterday. This will be my headquarters to which I shall return every two or three days. Haven't seen Sims yet. Everyone here seems uncertain as to whether the War is over or not.'

'[No date, received 19.11.18]. I was in Mons four hours after our infantry had entered and at the close of hostilities - there was a remarkable and historic scene there .Weather is superb - but freezing hard, which with the short hours of daylight makes work somewhat difficult. Still, I am getting used now to being cold and frost-bitten! Plenty of material I want round here, but shall have to go back to strapped Arras district for certain subjects.'

'18.11.18. I shall be returning to Arras district tomorrow in search of ruins etc which are more varied and conspicuous in that area.' (Copyright: Imperial War Museum Archives).