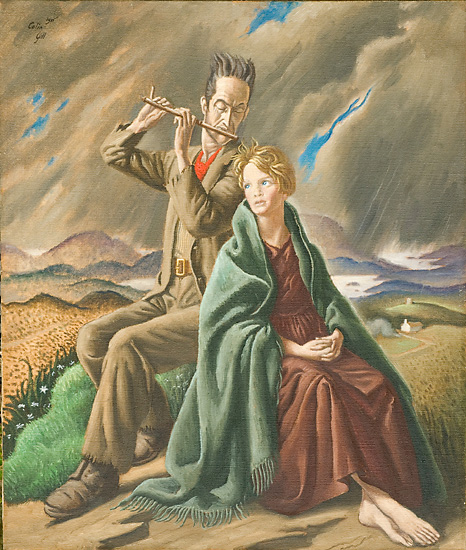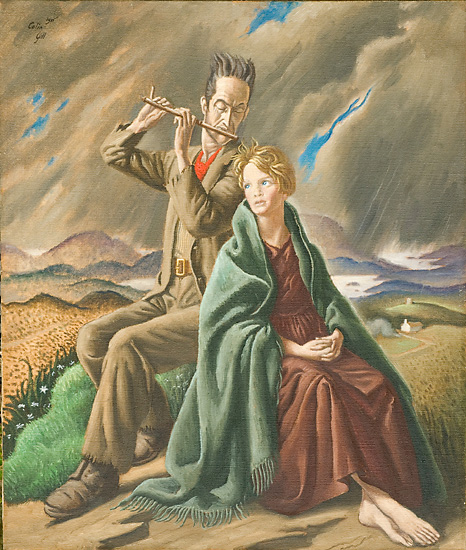 Hover over the painting to magnify (there may be an initial delay while the magnified image is loaded)
Colin Gill (1892-1940):
Kerry Flute Player, circa 1934
Framed (ref: 5513)
Oil on canvas
31 1/2 x 26 1/2 in. (80 x 67.5 cm)

See all works by Colin Gill oil Colin Gill
Provenance: commissioned by Judge Walton Mitchell after he saw the original (larger) work at the Carnegie International Show in Pittsburgh (1934); Adelaide Mitchell (Judge Mitchells daughter); thence by descent to her great nephew

This is a smaller version of the painting exhibited at the Carnegie International Show in Pittsburgh of 1934, and was commissioned by Judge Walton Mitchell, (circa 1935). The large version was acquired for the Carnegie Institute Permanent Collection (subsequently de-accessioned in 1979). According to the Carnegie Magazine, January 1935, the painting enjoyed 'the unique distinction of being praised unanimously by the critics and admired enthusiastically by the public' (vol. 8, no. 8, p. 247). The article continues:'The picture was painted by the artist on a trip to the west of Ireland last summer. The model who posed for the flute player is an itinerant musician … his eyes closed as if in ecstasy at the sound of his own music while the girl, with eyes wide open, is completely absorbed in the magic notes of the flute. Both are indifferent to the approaching storm and the buffeting wind … There is a classic simplicity and grace in the long lines of the girl's dress, shawl, folded hands, and slender feet.'

The model for this drawing was Sue Lethbridge, daughter of Mabel Lethbridge, a First World War heroine, whose portrait Gill had been commissioned to paint for the Imperial War Museum. Mabel Lethbridge and Gill became lovers for a time, Gill occupying the first floor of a magnificent studio in Tite Street, whilst Mabel, Sue and their butler occupied the ground floor. Gill became Sue's guardian. This drawing was acquired directly from Sue Murray (née Lethbridge), who was eleven years old when she posed for The Kerry Flute Player.